TiTAN Suspension for Toyota Corolla KE70
Day 2 - Deliver the front strut (16 Sep 03)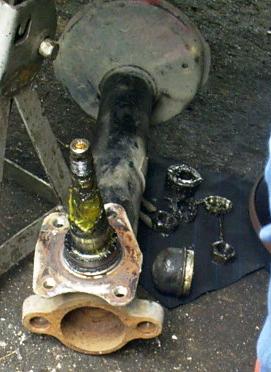 A pair of spare front strut is delivered to TiTAN to be removed of it's original strut and mounted onto their coilover.
TiTAN's application is a fundamental philosophy: -
No helper springs should be used
The coil should not be compressed
The absorber stroke for street must have a minimum of 60mm travel (for performance drivers) and generally 75mm for regular drivers.
The coil must be able to support the car's weight
The coil's travel must be within it's linear spring rate strength and must be matched to the absorber's travel.
The front travel must match the rear travel
and more......
Not many other suspension solution provider go to this length to ensure every customer is listen to, understood and a proper solution provided.
Their absorber construction is very radical, Bushes, Oil seals, Valves are proprietary design and manufactured according to their specifications from Japan.
Their Bushes, Oil seals, Valves cannot be bought by others and is protected by the individual factories. Most of which is bigger than usual, thicker than usual to accommodate long life service under Malaysia hot weather, harsh road conditions and driver abuse. That's why they give a two years warranty.
After 2 years and the absorbers die, then complete restoration by changing all oils and re-pressurized is only a mere Ringgit Malaysia (RM) 400.
After the final FOC setting and you're still not satisfied. You can go back again for complete coil change and absorber change of oil and gas pressure for a mere Ringgit Malaysia (RM) 300. Bloody good deal.
TiTAN also uses "inverted" methodology like Blistein. TiTAN's absorber works up-side down and horizontal too.
It is also learnt from TiTAN that all absorber oils cannot withstand the heat from welding. Therefore do not attempt to repair and weld because what ever little oil will be BURNT and is contaminated oil and they will eat into the good oil and eventually the repaired absorber will die. Only repair those that is open_able / serviceable.
ACOUSTICS SECTION AUDIO SECTION CAR SECTION
HOME - Technical Website for Acoustics, Audio and Car