Compare 20v Flywheels Lighten 5.8 kg vs 5.2 kg
6th November 2004 - 1am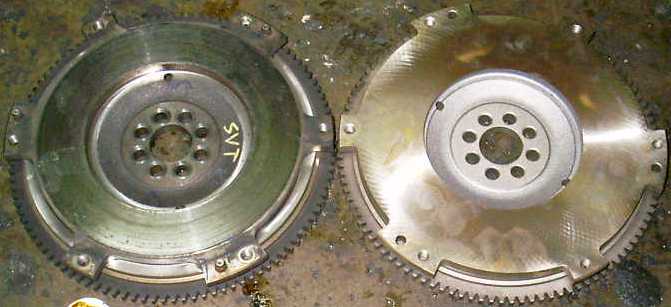 Both were originally Toyota Corolla Levin / Trueno AE101 20v AFM (silvertop) flywheels and weights 6.8kg each.
Left is lighten to 5.8 kg, while right is lighten to 5.2 kg. The processes of lightening are completely different and gives different engine behavior characteristics.
Notice the left 5.8 kg flywheel's 6 missing blocks and that they are cut deeper into the clutch plate contact surface compared to the right 5.2 kg unit. This means the 5.2 kg flywheel can still be further lighten :)
Notice also the inner circle / ring of the left 5.8 kg flywheel versus the right 5.2 kg flywheel. Again this shows that the 5.2 kg flywheel can further reduce it's weight from the inner ring.
From the previous topic Compare 20v Flywheels Weight assuming that the 6 missing blocks are not only cut deeper but also lower. The perimeter weight would be further reduced. Getting the 5.2 kg flywheel down to 4.8 is now possible.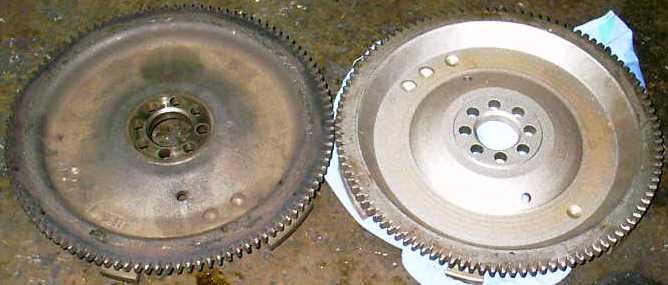 Notice the right 5.2 kg flywheel. It's weight reduction is most significant due to this side. The shapes are completely different. The UFO concave 45 degrees slope at the edge looks amazingly nice. The finishing is further improved from the previous Kian Leong Clutch - Type 2 High Heat High Duration experience.
ACOUSTICS SECTION AUDIO SECTION CAR SECTION
HOME - Technical Website for Acoustics, Audio and Car