2 Pieces Propeller Shaft versus 1 Straight Piece Propeller Shaft
9th July 2004
Currently using the 2 pieces type, but is seriously considering the 1 piece type, mainly because it is lighter and secondly it may recover some power lost due to the 2 pieces middle's section connecting joint.
The 1 piece propeller shaft is for KE70, bought new from: -
Mok Auto Used Parts Trading
Lot 823, Jalan Subang 5, Taman Perindustrian Subang
47500 Subang Jaya
Tel : +60(3)5632-6311, 8911, 1811, 5631-8616
Fax : +60(3)5631-8632
at Ringgit Malaysia (RM) 150
It weights at 5.9kg. The 2 pieces propeller shaft weights at 8.9kg - that's 3kg weight saving to the total car's weight, not so sure about the mid-section connecting joints would be 3kg. The weight must have included the bracket as well.
It is to be warned that the KE70's front end does not match the T50 gearbox's output 100%. The outer diameter is the same, but the internal teeth diameter is much smaller hence this is not a direct bolt on swap. Some modification works are required.
There are many options now: -
1) Simply change the front head to those which fits T50 gearbox's output and this will require the change of the coupling as well. Coupling cost Ringgit Malaysia (RM) 17 only.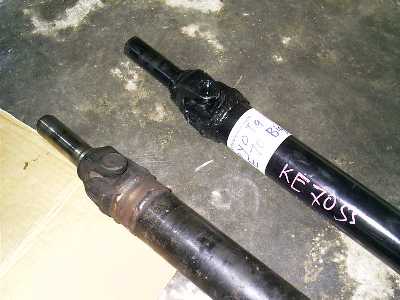 2) This is a good opportunity to cut the rear end of the new propeller shaft and bolt on a light weight aluminum tube, finally bolt on the front end that fits T50 gearbox's output. Perhaps it would shave of some more weight ....... and it is to wonder what kind of aluminum alloy to use to withstand the loads??? T6061??? AL7075???
3) Or the final solution is to send the necessary front end, rear end and custom made out of light weight ultra strong aluminum AL7075 and use AL7075 as tube as well.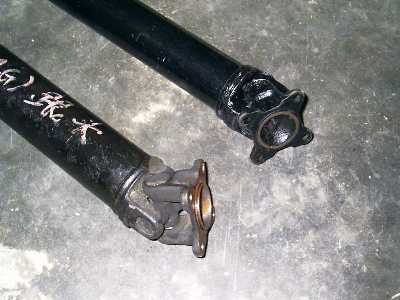 Still, it is doubtful that by using these light weight ultra strong aluminum that the weight could reduce from 5kg to 2kg ..... hence it's just a dream..... perhaps going to carbon-fiber directly would be ideal...... but ...... carbon-fiber are too expensive.....
More to come later......
Update 4th August 2004
Finally it has been changed - around 2 weeks ago.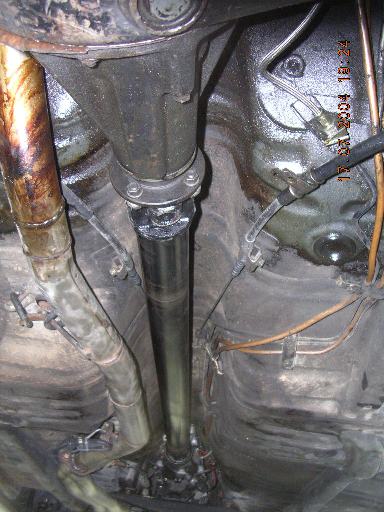 Notice on the left picture that the gearbox output is not aligned to the rear axle's input. Hhhhhhmmmmmmmmm the engine mounting will have to be modified to make sure it is 100% straight. Hhhhhhhhmmmmmmm or perhaps it is not good to be straight??? vibrations.
BTW this particular piece of propeller shaft is not dynamically balanced hence during high speed driving it was found to vibrate vigorously above 140 km/h. :( bad news.
Updates November 2004
There are too much vibrations from the single piece un-balance propeller shaft. The 2-pieces propeller shaft was re-installed until further time when the single piece propeller shaft is balanced as well as the engine mountings re-work to align the gearbox connects to this propeller shaft straight and into the rear axle straight.