Custom Exhaust
20th June 2004
Part 1
It's been a long time since there is any update on this site. Today's update is particular "rewarding" and important to allot of automotive enthusiasts, except for the professionals who already knows everything :).
Anyway, "finally" the car is sent to a exhaust shop to custom make a 4-2-1 system optimized for 4,000 rpm for the engine that I'm using, which is a Toyota 4A-GE 20vAFM.
The most important criteria for the optimization estimation is the exhaust CAM's duration angle, which is 250 degrees. It was found that I will need a primary of 1.35 meters and secondary of 0.65 meters. The diameter of the pipe was not specified from the reading materials. This will be an "bias" factor.
Regardless, thanks to you know yourself, who had the same exhaust flange as mine, could let the shop copy it without needing my vehicle, hence no downtime.
The car was left in the shop on Saturday night 8pm. The staff said to start work around 12am or 1am. The setup / specification is drown to them and to call me before starting work. I want to be present when they do it. They did not call and I went to bed.
Next morning 8am +++, they called to say the've done the primary and not very sure what to do with the secondary and ask me to go make sure.
When I reached, the primary was only 0.7 meters long. A long way from 1.35 meters requirement. It was then they admit that they did not "believe" what I said, repeatedly previously.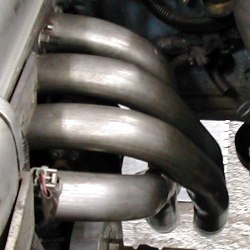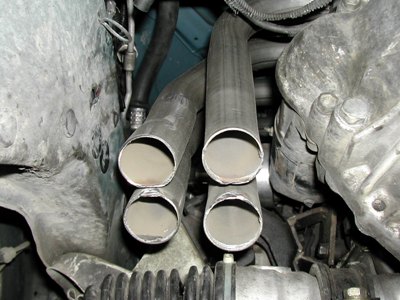 So, unwillingly I let them add the length to 1.0 meter, which changed the optimized operating rpm to 5,000. Come to think of it, it is still not too high and highly usable for a daily driver car.
The secondary is now changed to 0.5 meters decision instead of 0.65 meters.
ACOUSTICS SECTION AUDIO SECTION CAR SECTION
HOME - Technical Website for Acoustics, Audio and Car