Minor Correction
12th April 2004 Sunday
Remember this much was cut off the bolt required to clamp the engine plate?
Well the bolt's condition was: -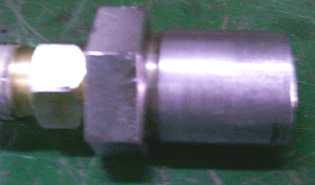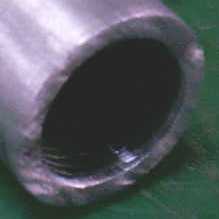 Notice the angle? Not flat! and the rough surface on the right picture. It is believed that it hindered the bolt's entry and blocked it from screwing in deep.
It is then taken out and grind down to: -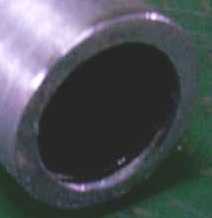 Notice it is much flatter. Slightly shorter and much smoother on the right picture.
Other than making the above changes, the emergency temporary O-ring is also changed. The previous emergency O-ring looks: -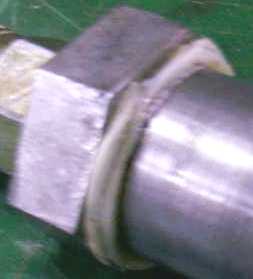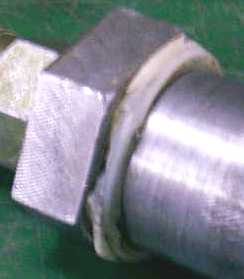 Notice that it is damaged somewhat, due to the sharp edges of the bolt's wedges as well as the engine plate's corners. It has been replaced by a regular round tube size o-ring.
The bolt is able to tighten in further than before. However it is also noticed that the bigger o-ring on the engine plate is not thick enough. Or that the o-ring's seat grove was machined too deep. It was my mistake not to have changed it with a thicker o-ring. Only after reporting the completion of the changes to the machinist then I learn of such thingsssss as thicker o-rings. Anyway, after these changes, it is checked for oil leaks and found improvement. However still very minor oil leak. So, next time, open the bolt and change both o-rings to thicker ones. That will solve it.
Just to add a few more of my experiences during this entire process of DIY installation and ownership.
When re-opening this bolt, there was NO oil. Not in the bolt and not in the hose to the oil cooler. Really really clean. However when the engine plate opens, then there was oil. I wonder why?
The oil pressure is around 62 psi at cold start regardless of morning or hot afternoon. As long as the oil and engine is completely cooled down to ambient temperature. Upon engine acceleration, oil pressure will increase above 80 psi.
When the car remain stagnent, i.e. no air flow to the oil cooler. Water temperature will slowly rise to the usual high of 55%. Oil temperature assume to rise until saturation. The oil pressure will drop to 38 psi. This is still on relatively new engine oil change. Upon engine acceleration, oil pressure will increase no more than 80 psi.
Engine rpm used was 4,000
ACOUSTICS SECTION AUDIO SECTION CAR SECTION
HOME - Technical Website for Acoustics, Audio and Car