Oil Filter Relocation
11 January 2004
All oil flowing direction below are wrong, please reverse them :( sorry!
Since the original simple oil cooler is not optimum for direct bolt-on installation due to oil filter off-set became too close to the hot extractor, which catches heat too easily. Therefore the oil filter relocation idea is looked into.
It is know that there is a adaptor piece, original, mounted to the engine block which may be modified to work with the oil filter relocation. It is hope that only the oil filter relocator plate will need to be fabricated instead of adding another cover for the original oil filter location.
The original adaptor piece looks like: -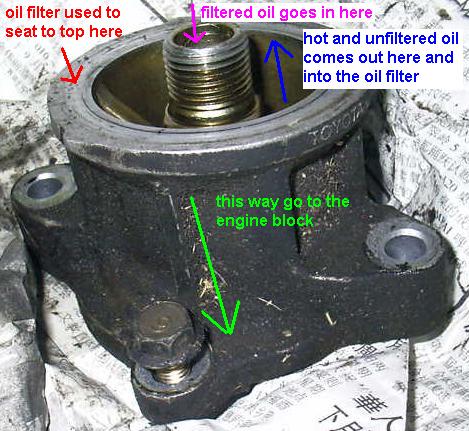 It is bolted onto the engine at: -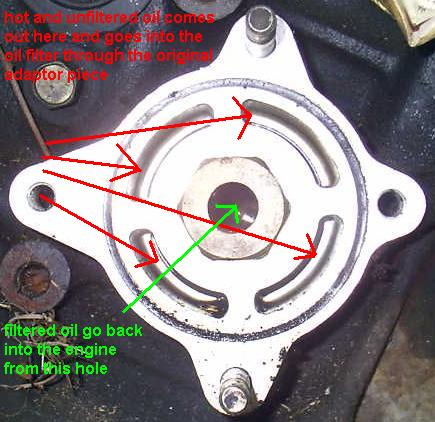 The side that bolts onto the engine block: -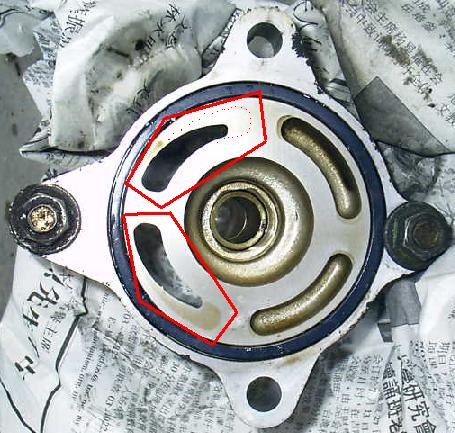 Notice there are only two boomerang holes that allows oil to flow out from the engine.
Notice nearby the boomerang holes, there are some oil marks of the shape on the engine block's oil flow out, which is a slightly enlarged boomerang mark.
This is far more restrictive when compared to the oil filter entries.
and finally the side to fit the oil filter looks like: -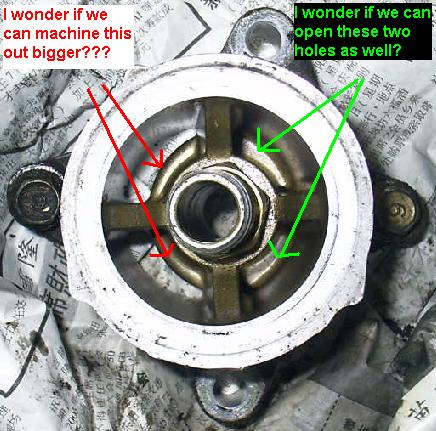 But would the oil pressure be affected in anyway? are those obstruction put in so that between the oil pump and the oil filter section is always "easily" full and hence easy to push oil through? else there might be a vacuum like condition???
If so, aren't the blockade should be on the two bottom boomerang exit? Why is it one of top and one below? Hmmmmmmmmmmm. I think too much................. :(
Anyway, it is hoped that the plate modification can accommodate the followings: -
New oil outlet path
Simple plate to cover the previous 4 boomerang outlets but have access in the middle to allow oil returns
Oil pressure gauge hole
EFI water temperature sensor hole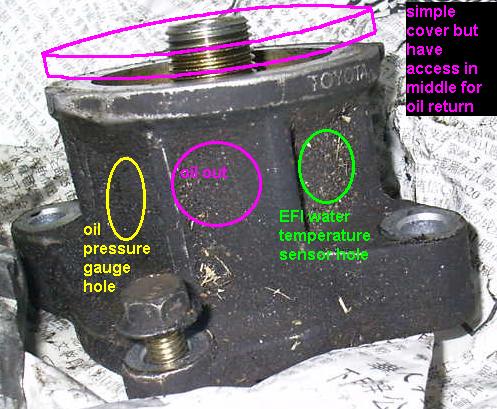 ACOUSTICS SECTION AUDIO SECTION CAR SECTION
HOME - Technical Website for Acoustics, Audio and Car