Oil Cooler & Filter Relocation Kit Installed
2 April 2004
Preface - previous page of oil filter relocation - is wrong regarding the direction of hot & unfiltered oil versus the cooled and into filter direction of flow. Please simply reverse all flow directions. Sorry!
And the process of installation .........
Around 10 pm start of installation, list of items: -
Big ass oil cooler - paint removed - from Mercedes 111 ???
Hose 3 feet (from engine's hot & unfiltered oil to oil cooler)
Hose 5 feet (out of oil cooler to oil filter relocation kit)
Hose 3 feet (out of oil filter relocation kit back to engine)
T-joint (to tap oil pressure for a mechanical gauge, where a small tiny hose goes into the cabin)
nipples,s,s,s,s,s (to connect the T-joint to the engine's oil return, engine, plates,s,s, whatever)
oil pressure gauge with it's nuts and bolts and hose and what lot
engine side cover plate
oil filter relocation plate
Hose specifications: -
Make - Phoenix
Description - Germany technology / GL Flame Resistant 110/03
Standard - DIN/EN853 2SN DN06 Exceeds SAE 100 R2AT 3/8"
WP 200 BAR or 3,000 psi
price around RM10 per feet
heads around RM10 each
Confused - don't know where to start ...... connect everything up on the floor as a mock-up to check that all parts are in order and fitting. Sorry no picture, was paniced, no time liao, need to rush so next morning can go to SIC Track.
Problem 1) engine plate's bolt too big - fighting with return nut :(
Solution 1) place T-joint here to tap oil pressure at the same time move the oil return nut away :)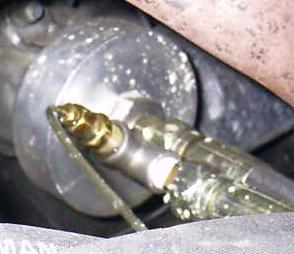 Trial fitting / trial installation into the car - using Allan's method (a forumer in www.zerotohundred.com nick QiW who drives a AE101 with 3S-GE Beams VVT-i) heheheh have to blow your cover :)
Problem 2) O-ring for engine plate's bolt missing :(
Solution 2) Found a rubber washer and cut internal bigger to accommodate bolt tightly :) god bless, please don't leak, please don't melt :( scary scary movie :(
Problem 3) engine plate's bolt too long :( ........ exactly 10 days ago one was made but was too short. karma :( always must have problems,s,s,s,s,sssssss :(
Solution 3) found a iron saw and saw 3 mm away :( so dam tired, stupid little bolt keep running away, unable to hold it down properly. Spent all the time just holding it properly :(
Problem 4) drain old oil, open new oil, why new oil grey color one? shxt looks like dead oil :(
Solution 4-1) use back old oil, but oil pan is dirty :(.
Solution 4-2) Go out buy new oil but 1 am in the morning no shop is open.
Solution 4-3) No solution, squeeze balls use the new oil and hope for the best.
Oil type: -
Make - Veloil
Model - 2 in 1 synthetic - molybdenum disulfide
Grade - 20w-50 API SH/CF-4
Date - 19 June 03
Standard - ISO 9002
Color - NOT GOLD COLOR :( but grey powdery :( dam scared :(
Capacity - 4.5 liters
Price - RM 12x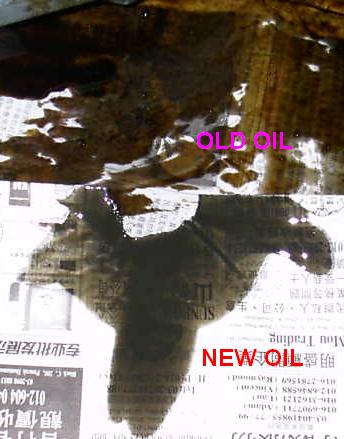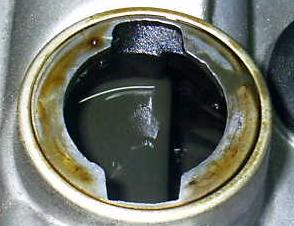 So, after everything is installed: -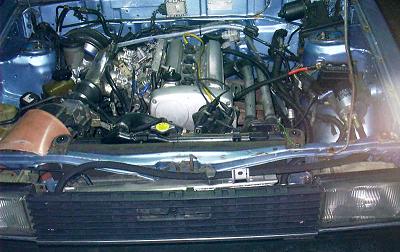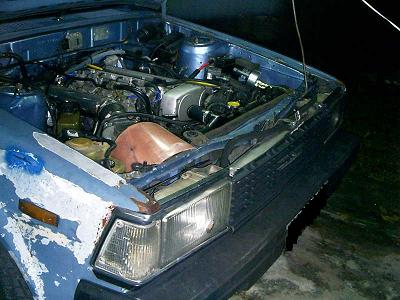 It seems to be missing - where is it?
Closer inspection reveals it's hiding place. That's Mr CHUA Chen Ming helping me secure the engine plate's bolt and a sample of the size without the front grille cover.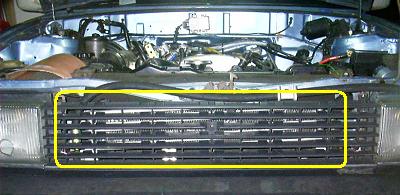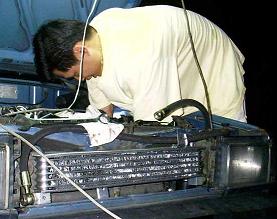 During installation in the middle of the night, oooooooooooooooOOOOOOOOOOOooooooooooooo
After everything is done.
Start engine, CHUA Chen Ming (friend) monitoring for oil leaks and will sound alarm to shut down engine. All OK :) very lucky. Everything was tighten really tight ........ wrapped allot of water pipe white tap (Teflon) as well.
Engine oil warning light on longer than usual. This is expected as engine oil takes longer time to travel through the hose to the BIG long oil cooler, then another hose to oil filter relocation, then fill up the oil filter itself, finally another hose to return to engine. Passing by the oil pressure gap tapping T-joint last before re-entering engine.
Engine oil pressure UNUSUALLY high at 60 psi :( manuals says around 30 at idling. Aaarrghh don't care, as long as there is oil pressure. This is believed by Mr. CHUA that the oil pressure tapping at the T-joint is not correct location source.
His Proton Wira Sedan converted to Blacktop MIVEC idling oil pressure at 80 psi :( and over 100 psi upon acceleration :(. It suffers oil lacking / oil pressure weak after installing oil filter relocation kit. This is during the MIVEC activation, oil pressure drops to 40 psi, where he would hear a vibrating metal knocking sound. The usual MIVEC unable to open properly sound. After he removed the oil filter relocation kit and only use the regular oil cooler sandwich plate then everything turns fine.
Later he changed the oil cooler upside down and the MIVEC unable to open sound returns. He realised that there may be air-bubbles trapped in the cooler and could not deliver engine oil when pushed through during MIVEC activation request. scary scary movie, I'm praying I won't have this problem :(
2 am in the morning, all finish, went out for a test drive, friend followed behind to make sure no oil leaks. The night is cold, 25 Celsius, test drive distance short, engine oil cannot fully warm. Sleep
NO oil temperature gauge :( - NO oil temperature gauge :( - NO oil temperature gauge :( - NO oil temperature gauge :( -
Next morning, 7:30 am went out to meet friends. Water temperature only 30% as oppose to the usual 50%. When car stops oil pressure noticed to be lower around 50 psi. This starts to be as expected, because engine oil still very new ??? While waiting for friends, water temp finally increase till 50% and oil pressure drops to 42 psi. Distance traveled 10 km.
Friend came and continue to SIC Track Day (Sepang International Circuit) clocking between 110 to 180 and water temp always 25% never 60% as usual. Very good :) because morning still cold.
In the track, engine rpm between 4,000 to 5,000 mostly, speed around 80 to 120 water temp shows 50% still a tad lower than the normal 60%. Oil pressure over 80 psi. Gauge cannot display more than 80 psi, therefore maximum oil pressure is estimated no more than 90 psi.
I do not suffer the air bubbles problem like my MIVEC friend, I also do not suffer the VVT activation noisy problem. No oil leaks, lucky.
Aftermath
Small oil leaks was found at home after track session. This is suspected to be the rubber washer modification into O-ring getting weak due to pressure and heat and giving way. The bolt is further lock in 1/2 round. Checking after 24 hours found no problems.
Day 2 - driving from 6 am to Tanjung Malim for Ancestors prayer (Cheng Ming) - water temp 45%. Not as low as hoped for. Oil pressure at idling after 700 km is 38 psi. This is getting very very normal :)
All in all is a good installation, good readings everywhere, good temperature. Lots of unexpected unnecessary excitement :)
The details of oil filter relocation kit. Notice the foam piece protecting it against metal rubbing. Crude, but effective. The hydraulic hoses are exerting a very strong force and the entire kit is so stiff that it is not moving.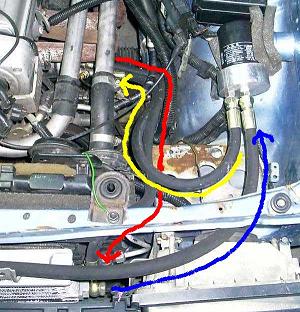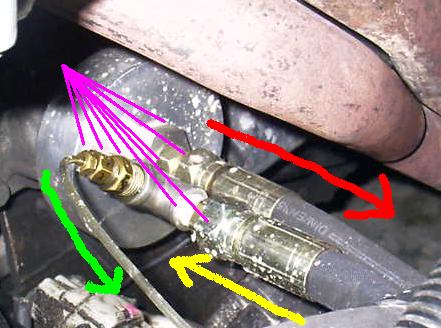 Red arrow is hot oil pumping out from the engine, un-filtered
Blue arrow is cooled oil after oil cooler and into the oil filter relocation

Yellow arrow is cooled and filtered oil back to engine

Green arrow is oil pressure T-joint tapping for mechanical oil pressure gauge

(notice the grey color engine oil fluid

,

not the conventional gold)

Purple arrows - notice so many joining points using various nipples and all - no oil leak - 1st time virgin installation :)
ACOUSTICS SECTION AUDIO SECTION CAR SECTION
HOME - Technical Website for Acoustics, Audio and Car