Ultra Racing Strut Bars for Toyota Corolla KE70
Fender Bars
Front Tower 3 Points
Rear Boot 4 Points
14th April 2004
Muah Ha ha ha hah hah ha, I am so happy :)
I am so happy, I do not know where to begin. As usual, start with the long winded story shall we? :) Nah, lets not bore you guys and get on to the facts. I'll tell the long story below.
The first thing to upgrade onto any car is the "Fender Bars". Why? because this part of the chassis flex the most and this investment gives the biggest bang for return. This particular bar is identical to AE86 :) and cost RM280 lucky KE70 owners :)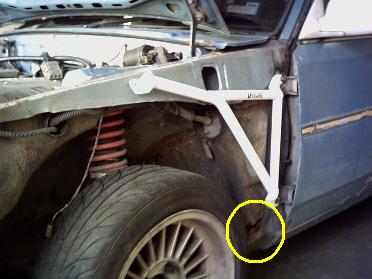 The second thing to upgrade is the "Rear Boot 4 Points Brace". Why? Because after the front is supported by the "Fender Bars" the rear to front rigidity ratio gets out of balance and the tail will start to tend to fish-tail a little. This cost RM380.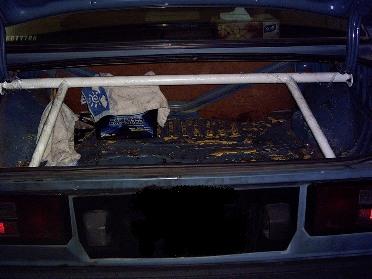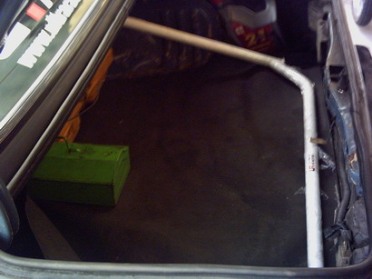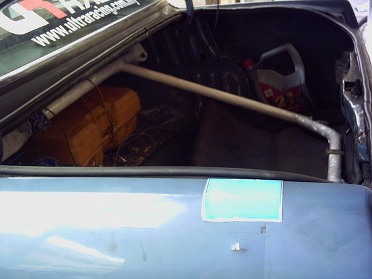 This especially depends on the construction of the rear suspension. Cars like Proton Perdana / Satria and the legendary SAGA will exhibit toe out on the rear outer wheel during a hard cornering due to weight loading from extra G-forces. This will make the car tail happy into oversteer.
However cars like Honda CIVIC using a more superior rear double-wishbone suspension will not exhibit this problem.
The fish-tail behavior will only be a significant problem when the car have another chassis rigidity upgrade in the front. For instance "Fender Bars" + "Front Towers 3 Points Brace". The rear will 100% fish-tail and makes cornering extremely difficult to near impossible.
During high speed moderate braking, extreme control pedal control needs to be excersice because the rear fish-tail very easily. I am speaking on personal experience. i.e. 160 and around 7 cars gap a car suddenly swell out and I brake to reduce speed to around 120 say. My car fish-tail significant like drifting or a sudden acceleration from stand-still where the rear angle is around 20 degrees away from center. That's a hell lot. The brake pedal was only depressed around 20% / 30% at the most. Very very dangerous.
So, remember to upgrade the "Rear Boot 4 Points Brace" after you upgrade the "Fender Bars". Do not upgrade the fronts only.
The 3rd item to upgrade is the "Front Towers 3 Points Brace". This cost RM350.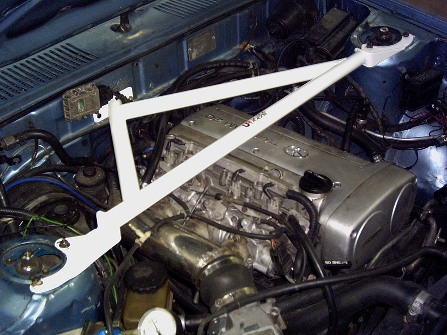 Ultra Racing contact details available in their website www.ultraracing.com.my
Results
After the upgrade the car is able to go 190 following modern 1990 production without falling back at all. Everyone should know that KE70 is a light-weight non top speed stable vehicle. But after Ultra Racing Strut Bars upgrade. Speechless. 190 from Kuala Lumpur to Johor Bahru all the way.
Taking the car to Sepang Formula 1 Circuit for testing reveal significant chassis feedback and I did not spun-out and could initiate counter steer unlike before always do not know when the car will over and spun out eventually.
Unbelievably, the car's body roll reduced. With this I can nearly quote I do not need to upgrade the bottom front and rear stabilizer bar anymore.
Side Notes
There are issues of handling changes tending towards understeer or oversteer due to all this. After all the upgrades the car exhibits around 3% oversteer from it's near 100% neutral stat from numerous extremely careful TiTAN Suspension tuning.
The "Rear 4 Points Brace" was later modified and reduce the 3% oversteer back to near 100% neutral.
So, for any Toyota Corolla GL 1980s KE70 owners. The so-called R&D has been done and tuned up. Just get the same package.
Tests were done at Genting, Sempah, Bukit Tinggi. The combination of TiTAN Suspension + Ultra Racing Strut Bars + BF Goodrich G-force SPORT series 195/50R15 is awesomely neutral :) tire pressure 36 psi cold, 38 psi hot.
Front camber -0.9 degrees

Front toe zero

Front caster 1.5 degrees

Front track width increase 30 mm each side

Rear track width increase 14 mm each side

Front wheel to arch gap 2 fingers

Rear wheel to arch gap 3 fingers

Front spring rate 360 psi / 3 inches (4kg/mm)

Rear spring rate 270 psi / 3 inches (2.88kg/mm)

Total car weight = regular, no special strip down, no special heavy items.
Ultra Racing Strut Bars Services
Ultra Racing Strut Bars - do not DIY to imitate