Roll Center Adjuster with Negative Camber + Track Increase
June 2004
Part 1
This is not a regular RCA because once installed it automatically adds "Negative Camber" as well as increase the track width. It's like buy one but get two other free. The amount of negative camber is proportional to the amount of track width increase.
See pictures below new versus old. Notice the strut has been shifted outwards? See the left picture closely.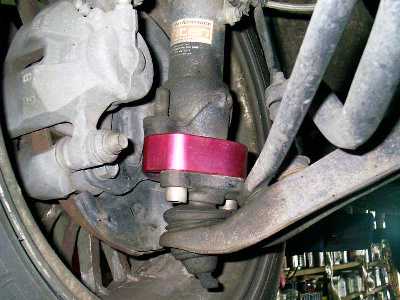 The new RCA felt firmer, quieter, less vibrations and more feedback. This is because the old RCA does not have a flat sitting surface.
Regardless, with the extra front track increase. The car exhibit more body roll than before. This was very surprising and disappointing.
The extra negative chamber was reduced to around 2.5 degrees instead of near 5 with the help from front strut top camber plates. The camber angle cannot be blamed as the factor causing more body roll.
The new RCA height is slightly shorter than the old RCA height by around 5 mm. This is all good since I've got too much RCA height.
The only difference between now and before is purely the front track increase. So it is now learnt that increasing the front track width will cause the chassis to roll more. But why?
At first it was thought that the suspension is no good anymore. That the current spring rate was not enough and harder / stronger / stiffer spring rate would be required. But experience has always shown that not everything that goes wrong is to be blamed onto the suspension. Hence time is given and allowed to further find out why.
Few days later during a drive, it is found and felt 100000% sure that the spring rates are fine. In fact the rear is slightly too stiff and bouncing and should be reduced in the future for city / street / race conditions.
After much thinking, it was finally realized and the blame is put down to the wheels are further out, away from the front bottom stabilizer bar as compared to before. Hence it does not have as much influence as before. Now stronger / harder stabilizer bar would be required. Dam these will be hard to acquire, expensive if new and literally impossible to get used :(
So, since I can't find one now, just leave it and keep driving.