90915-YZZB6 Big Oil Filters for Toyota Corolla Levin / Trueno 4A-GE
28th February 2005
Presenting Oil Filter model B6: -
The white filter is not 90915-YZZC6 but please see the box on the left which is for C6. Hence this white filter is a quick comparison to the size difference between C6 versus B6.
The B6 unit is taller as well as larger in diameter. I do not know if it is real versus I just want to fool my self with psychology. The big filter feel better for the engine.
VVT operation seems to be like improved ........ like no delay ...............like seemless ..........you've got to try it to know it :)
Saying this allot of people have been very worried about oil pressure drop when using big ass oil cooler or big ass oil filter. Just some figures for you to reference.
My engine oil pressure at idling is around 80 psi in the cold morning and 40 psi in the hot afternoon. Oil return from cooler temperature is 50 celcius.
The engine oil pressure above 3,000 rpm is over 100 psi in the cold morning and around 80 psi in the hot afternoon. Oil return from cooler temperature is around 70 celcius.
Only extremely long traffic jam stops like over 30 minutes of really non movement and very very hot afternoon will see oil temperature max out at 83 celcius. In this case oil pressure still above 40 psi at idling and around 80 psi above 3,000 rpm.
The readings are surprisingly same for many types of engine oil class as well as brand. There is no modification made to the original engine oil pump. This is a completely fair test.
High revving the engine also does not create oil temperature above 75 celcius. Dam good big ass oil cooler. However mineral oil (normal cheap brands) died around 1,000 km travel. 4A-GE 20v cannot use normal mineral oil.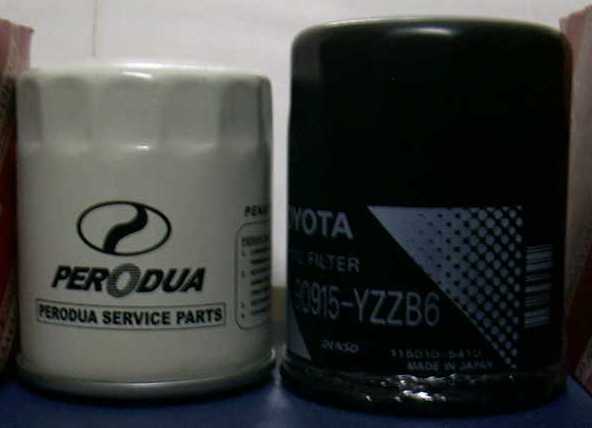 Summary
Allot of oil filters above can be fitted to 4AG, but not all are recommended, so don't get the wrong one.
Summary of usable filters
90915-YZZC6
90915-10004
90915-YZZB6 (big - good)
Cannot be used list
90915-YZZA2
90080-91058
90915-YZZB2
90915-03001
90915-YZZC5
See also
ACOUSTICS SECTION AUDIO SECTION CAR SECTION
HOME - Technical Website for Acoustics, Audio and Car