Specific Oil Filters for Toyota Corolla Levin / Trueno 4A-GE
First publish 29th May 2003 - Updated 5th October 2003
Mr. Wong Yee Yong once pointed out the importance of getting the correct oil filter for the 4AG engine or else it could cause mechanical failure. Some even mystically report that VVT operation improved to smoother engagement after using the correct oil filter. Personally, don't know???
90915-YZZC5 vs. 90915-YZZC6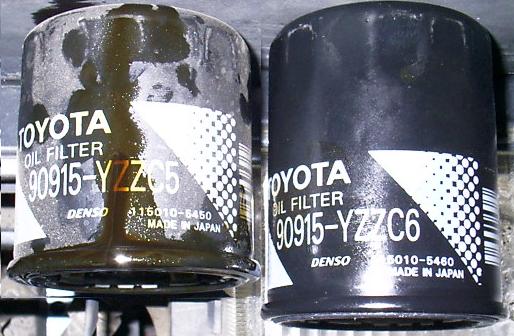 The C5 box (namely 90915-YZZC5) specifically print for A type engine application but excluding 4AG. Therefore if you care enough what Toyota engineers got to say, don't use the wrong oil filter.
There is another model 90915-10004 which also state suitable for 4AG.
The C5 is priced around Ringgit Malaysia (RM) 18 while the C6 is priced at Ringgit Malaysia (RM) 28 each.

UPDATES
Allot of oil filters above can be fitted to 4AG, but not all are recommended, so don't get the wrong one.
Summary of usable filters
90915-YZZC6
90915-10004
Cannot be used list
90915-YZZA2
90080-91058
90915-YZZB2
90915-03001
90915-YZZC5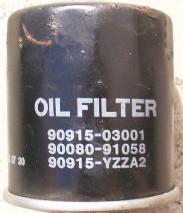 Apparently, if it is not big BIG, it is not suitable for 4AG.
A friend's MR2 SW20, 1st gen car but using 2nd gen engine running on 1st gen ECU (AFM) experience "Engine Warning Light" for around 20 seconds of start-up because the oil filter is not the correct one. This is a rare but serious indication of the need to use the correct oil filters.
See also
ACOUSTICS SECTION AUDIO SECTION CAR SECTION
HOME - Technical Website for Acoustics, Audio and Car