Upgrade Fuel Pressure Regulator
2nd May 2003
Seeing the air fuel ratio curve "going up and down" (how fuel is burned) or (how effective is the combustion) from the "Dyno Day" results has made me want to improve the situation. One method is to upgrade the OEM ECU to an aftermarket fully programmable ECU, where one can adjust the fuel delivery accordingly. However this will be costly, therefore it will be put on hold for a long long time.
Lets just say I don't have good driving skills and unable to drive the car to perform well, therefore will not be doing anymore upgrades - insensibly :(
About one and a half week ago, during a TTT session (Toyota Teh Tarik - Mamak). I heard an experience from Ivan Khong, where some re-conditioned import cars have bad air fuel ratio curve from the chassis dyno test, where it is "going up and down" and instantly thought of my case. The exact words used by Ivan Khong was surprising. The solution they used was to replace the fuel pressure regulator using a new factory default model.
Since it is going to be replaced therefore install a aftermarket adjustable fuel pressure regulator instead :)
BEFORE AFTER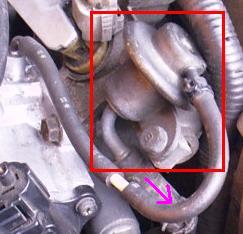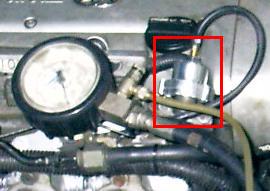 The fuel pressure gauge does not come with it :(
The aftermarket fuel pressure regulator and installed from: -
Vincent Chan (016-223 7328)
DMT Racing Development Sdn Bhd
No. 4, Jalan PJS 11/20
Bandar Sunway 46150 Petaling Jaya
Selangor, Malaysia
Tel : +60 (3) 5637 5826 / 27
Fax : +60 (3) 5637 5823
The reason DMT was chosen because they have accurate fuel pressure gauge and can set it to the factory specified pressure, which from the 4AG-E 20Valve Engine Repair Manual says 34-40 psi without vacuum (the rubber hose that plugs on top of the unit). So it is set to 40 psi exactly without vacuum. Once vacuum is applied, the pressure drops to 31 psi and fluctuating very quickly between 29 to 33 psi. When throttle is engage, the pressure increase to 40 psi. So it is OK I guess :)
Once the unit installation is complete, the idling is found to be extremely high at 1,300 rpm. This shows the previous unit was faulty badly. The engine needs to be re-optimized to factory default settings more closely / correctly.
Please see also Engine Tuning Part 2 and Engine Tuning Part 5
ACOUSTICS SECTION AUDIO SECTION CAR SECTION
HOME - Technical Website for Acoustics, Audio and Car
10th September 2003
As of writing it was not known that: -
during idling with vacuum is 28 psi
during idling without vacuum is between 34 to 40 psi
revving with vacuum should not exceed 40 psi
For further corrections of some ideas above and in Engine Tuning Part 2, please see Fuel Pressure Gauge