Front Brakes Upgrade to RX7-E-FD3S
23rd February 2004
Alternate Brake Pads - Guess what car is it for?
Tips - BIG and it's a TOYOTA :) haahhaha I think I am fated with TOYOTA.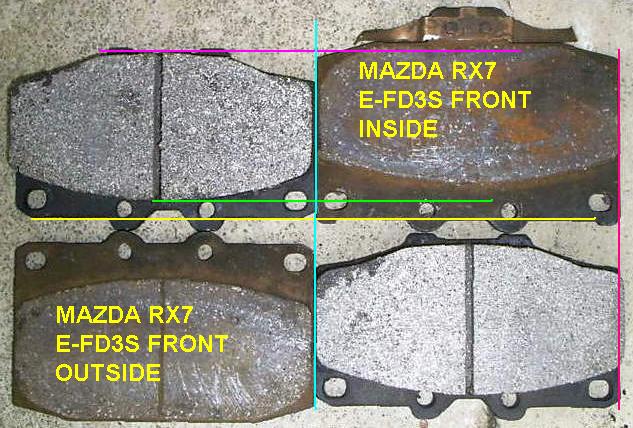 It is for Toyota Land Cruiser / Hilux of the 90s. Brake Pad brand is MINTYE model number MP-50J, cost Ringgit Malaysia (RM) 38 only for 4 pieces all front.
It is bought from: -
Syarikat Alat-Alat Ganti Kereta Intan Jaya
No. 4, Jalan 8/1, Jalan Sungei Jerneh
46050, Petaling Jaya
Selangor, Malaysia
Tel : 60(3) 7955-8134, 7956-8839, 7955-6791
Fax : 60(3) 7954-6131
A botel of Bardahl Gearoil SAE140 API-GL4 1 liter only cost Ringgit Malaysia (RM) 7 from this shop.
This pad is obviously wider and slightly longer, but it curves more than original on both sides. Still less pad for inside is good because it tends to wear faster on the rotors as well as the pads.
The RX7 pads was enquire to be around Ringgit Malaysia (RM) 100+++. Literally 4 times more.
Another manufacturer for RX7 pads is Bendix, model DB416 (14.3mm).
ACOUSTICS SECTION AUDIO SECTION CAR SECTION
HOME - Technical Website for Acoustics, Audio and Car