ECU made in MALAYSIA by Mr.S.K.Leow
Satu lagi Malaysia BOLEH
ECU = Electronic Control Unit
(some manufacturer prefer to call it EMS, Engine Management System) or other names???
At first sight it doesn't look like it was made by a local enthusiast, because the complete product is extremely neat and clean. Even the sockets are for original fittings into Mitsubishi's engine running EFI (Electronic Fuel Injection) systems.
It was thought that only the small PCB (printed circuit board) was made and added onto the existing main-board. However, later on it is noticed that the 4 yellow color potentiometers (variable resistor) on the main-board plus some LEDs (Light Emiting Diode) is present on the main-board. No factory ECU comes with any form of variability or LED. They are always fixed / locked to prevent user temper. Therefore it is now confirmed that this ECU is not factory and hence must be self-made / prototype.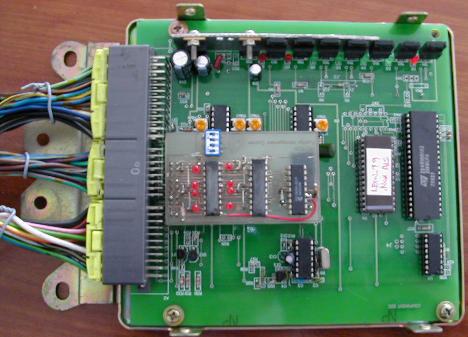 Congratulations goes to Mr.S.K.Leow 017-5730716 for a job well done. Tahniah.
In the future before an aftermarket ECU is purchased, Mr. Leow's advice and expertise will be consulted.
For purchases, please email Mr.S.K.Leow directly. I'm no middle man. This way the buyer save $$$ by going direct to the source and also get proper technical support.
For small / light technical questions, emails are still most welcome.
Aftermath
A friend recently gave a call to Mr.S.K.Leow and ask for details, so far this is what is offered.
Fuel injectors duty cycle control
2 in 1 MAP (vacuum & 2 bar pressure manifold absolute pressure) sensor built-on-board.
Water temperature compensation
DLI [distributor less ignition] (dual coil waste spark - 4 cylinders engine only)
Sequential fuel injectors firing
Anti-lag system for turbo
Switch (for Shift-light or Buzzer)
VTEC engage, also applicable to VVT and MIVEC
RPM soft cut (2 memory)
Boost limiter (2 memory)
perhaps more, it is hoped to include: -
VVT versus TPS for Toyota = half-intelligent VVT, but Mr.S.K.Leow must enable such features 1st - by software.
Data logging
Simultaneous use of original exhaust sensor and aftermarket high speed wideband sensor
Closed loop auto tuning
4 memory map, one as base map, 2nd is street, 3rd for race, 4th for high altitude???
and more, can't think of any now
All this feature makes me drool.....................so if any one is interested, please email Mr.S.K.Leow or give him a call 017-5730716.
By the way, Mr.S.K.Leow can make an wiring adaptor sockets so that the user do not need to cut / modify the original wiring loom, where Mr.S.K.Leow's ECU through the wiring adaptor sockets may be connected to the user's existing wiring loom. See Part 4 - III Customer Self-made Adaptor
This also ensures all original sensors are used too, if applicable.
It also comes with a simple estimated base map so that the engine can start and run. Further tuning will be necessary for optimization, especially on custom modified engine. Best get it to a Chassis Dyno to fully utilize it's potential.
To download the software, please click Car/ECU/GOOD.EXE only 35kB (still old version though, not yet receive new version sample)
Protech-II Features & Windows version screen shot
ACOUSTICS SECTION AUDIO SECTION CAR SECTION
HOME - Technical Website for Acoustics, Audio and Car
For purchase details please contact Mr.S.K.Leow 017-5730716