Typical Problems of Toyota Corolla Levin / Trueno AE111 20v MAP ECU (aka blacktop)
4th June 2003
Thank you once again to sifu master investigator sherlock holmes Mr. Wong Yee Yong @ Levin818 - forum member of www.zerotohundred.com
The usual problem with 20v type ECU is that the capacitors tend to die and the juices (chemical) will leak onto the circuit and short circuit some electronics. Normally the juices are not that spicy and does not melt the circuit board and normally the juices are not sour enough to conduct huge electrics hence no other parts are shorted / damaged.
Normally that is.
Now now, it's not really juices and they are not spicy nor sour, it's just a description of a imitation joke. Still I think you guys get the picture.
The 20v MAP (blacktop) however have a much more severe problem, which over so many years Mr Wong did not find on the 20v AFM (silvertop), which is the transistor for the VVT controller blows itself into pieces. OK OK, they didn't blow into pieces but a hole that human naked eyes can see through. Now I reckon that's bad enough.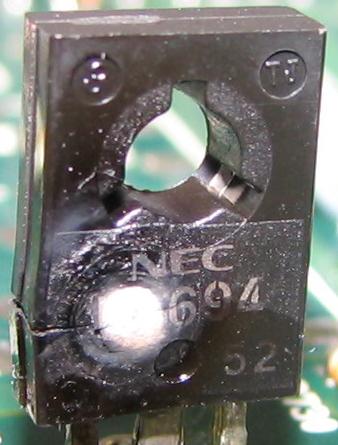 It is unknown why only 20v MAP type ECU will blow the VVT controller while the 20v AFM type does not ???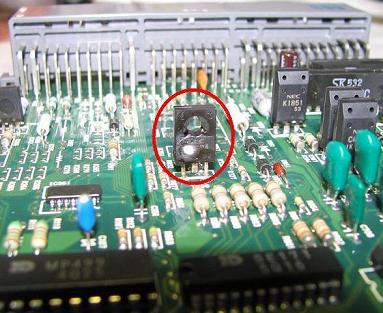 We've looked into much more 20v AFM ECU than 20v MAP type. I'd say my hand alone has seen nearly 20 units of 20v AFM, and Mr Wong would probably have investigated more than 50. None of the VVT transistor blow.
But only studying less than 10 units of 20v MAP type ECU already two were found VVT transistor blown.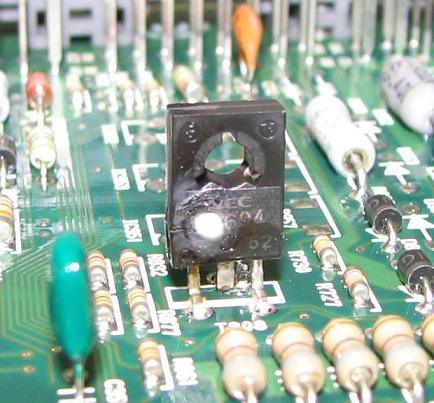 So, you guys with 20v MAP ECU, please check the following to make sure that the VVT controller is working by tapping the signal voltage 12V from the VVT solenoid at the engine. Please do not take it from the ECU because it's reversed triggered.
i.e. if signal taken from the engine, lights on = VVT on
if signal taken from ECU, light off = VVT on.
Another way to tell is to look at the transistor. I'm in the process of acquiring some photos from Mr Wong. Will update soon.
In order to protect or pro-long the life of ECU I suggest to locate them away from heat. The standard locations in the AE101 and AE111 chassis is in the middle console on the floor pan. That's were the exhaust passes. It is very hot and not recommended.
My own ECU is places at the same place, but instead of laying on the floor pan. Mine is standing bolt onto the air-cond cooling coil :) cold cold ice ice baby.
To Alvin @ artnet in Kuching, Sarawak. You know we complain your 20v MAP low-end sucks ??? I think your VVT transistor blew and hence VVT did not engage for low rev. Try to find out......
Oh shxt I better not remember his name wrongly or I'll get penalty..............
ah wong ah wong, please send me some photos as evidence or else people start to call me a fake :) hahahahahah ASAP please :) hahahahahha my ass is on the line :) hahahahahh
1st Update
Thanks to Wong Sifu for posting the pictures in http://www.zerotohundred.com/newforums/showthread.php?t=29266 discussion may continue here.
2nd Update

Yesterday, 08:21 PM
Hi guys... expecially those BLT who like to bully SVT
Watch out one day you might experience sluggish on your belove BLT engin, and will be out-run by even a SVT A/T... hehehe...
Here are some brief of the problem...
Each time when the VVT solenoid is triggerred, the Transistor has to suferred for a surge current (which appears in milli-sec only). This surge current will create heat on the Transistor body and need to be dissipate properly.
For SVT engine, VVT only trigger when RPM is beyond 4400rpm.
Since we are not often running the engine up and down around this RPM level, the Transistor is able to dissipate the heat before the next trigger is coming.
But for BLT engine, the VVT is design to be trigger by TPS angle and RPM, which is more frequent than SVT. The average heat created on the BLT Transistor is much higher than SVT, and is beyond the specification of the Transistor. So it will die, after you pushing your engine too hard.
However, your engine will still running and you will not experience any engine stall problem. It is only that your VVT will not longer triggering liao...

The only solution is, change to adjustable cam pulley and discard the VVT...
Yesterday, 11:28 PM
Senior Member

Join Date: Nov 2003

Location: Old Town, PJ, Sel, Malaysia

Posts: 2,606
Quote:
Originally Posted by levin818
For SVT engine, VVT only trigger when RPM is beyond 4400rpm. Since we are not often running the engine up and down around this RPM level, the Transistor is able to dissipate the heat before the next trigger is coming.
eh wong sifu ar, but sifu master pendekar ZUL's SVT trigger by TPS vs. RPM wor. year 94.
I think all after 93.5 is like that while I suspect since day 1 all 20v like that.
3rd Update
Today, 12:49 AM
For those who wish to connect an external lamp for monitoring the VVT, u may refer to the following attachment.

The diagram on the right will add extra 12mA to the Transistor but the diagram on the left will not (recomended). Bulb is not recomended as the current consumption is high and will further shorthen the Transistor's life span.

Note: the diagram on the left will not work if the VVT solenoid is disconnected.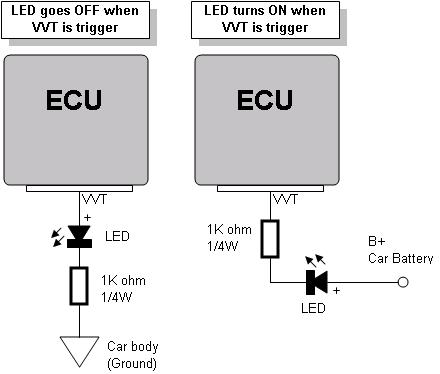 Today, 12:57 AM
So how to avoid the VVT Transistor from burnt?
The solution is: add a heatsink on its body which will helps to dissipate heat faster.

Try to look for following heatsink from Jalan Pasar. Or please specify heatsink for TO-126 Transistor.

When assemble the heatsink to the Transistor, makesure that the heatsink isn't touching the surrounding components, and the ECU casing!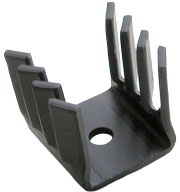 Thanks Wong Sifu once again. You're the Champion :) Hail Wong Sifu :)
Now do I get my free Syrup Bandung at mamak :) ahhahahaahah
ACOUSTICS SECTION AUDIO SECTION CAR SECTION
HOME - Technical Website for Acoustics, Audio and Car