Sudden Bad Idle
15th November 2003 (Saturday)
Problem started when reaching the Damansara Toll Exit from the North-South Highway coming back IPOH (state capitol of the state of PERAK, MALAYSIA) which is approximately 200 km away from KUALA LUMPUR (capitol of MALAYSIA). The entire journey is met with heavy rain and driving speed have to be reduced to between 65km/h to 120km/h using 4th and 5th gear.

The entire drive was smooth sail until reaching the toll where the engine is unable to idle normally.
Initially it was thought to be cold condition due to the rain wetting the radiator. The workshop I engage is near the toll exit so there it went.
It is known that one of the spark plugs' cable is near torn, it is ignored. Another is actually severed at the head on the distributor, therefore the mechanic attempts to repair it by welding.
Start the car ........................... still no good, bad idle.
Each spark plug cable is taken out and tested for spark by view. The coil's output was also checked. They are all fine.

The mechanic later found one of the intake plenum screw missing and thought it was a vacuum leak, but after the screw was replaced, still the same.

Then the spark plugs were taken out for inspection and found them black.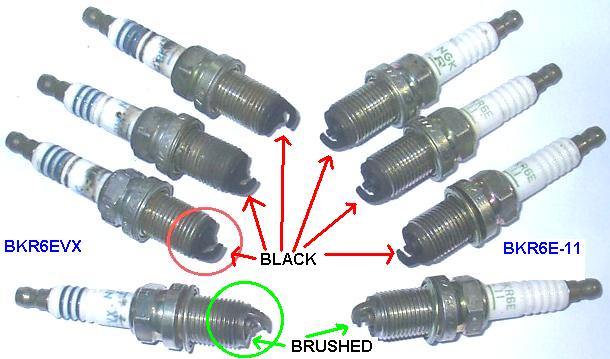 The current spark plugs are relatively new NGK BKR6EVX "High Performance Platinum" Ringgit Malaysia (RM) 85 (less than 20,000km).
This means it is running "rich" (too much fuel) during idling. But what is causing this problem?
The funny thing is that the engine is still willing to REV :) high high also can, very willing and very normal when rev - except fuel smell rich.
The AFM was opened and checked that there is 5V+ DC at pin VC. AFM Flap's output is at 0.xxx which is not correct. It is suppose to be 3.1V+ DC. Since the engine is vibrating therefore it is assumed to be bad measurement from the vibration. (Big mistake to be realised later)

Anyway, go home and change

1) distributor
2) another set of spark plugs BKR6E-11 (less than 20,000km)
3) 3 out of 5 spark plug cables (all cables digital multi meter checked for continuity and resistance all in the 5k ohm region)
4) Igniter (201)
Start the car .............................idles bad :( it's late 0040 hours so give up and go to sleep.