Warning / Tips - Buy Vane Air Flow Meter (AFM)
3rd June 2005
Before I start, I want to thank my sifu Mr. Wong Yee Yong @ Levin818 - forum member of www.zerotohundred.com for teaching me so much last. We didn't forget you will not dare to take credit from you.
Normally buyer will check the top cover (black color) [5cm by 5cm] edges to see if any cutting traces / tamper. Today one AFM was found perfect externally - uncut - but digital multi-meter check the FLAP output voltage no response. So we open the top cover.
Oh my god !!!
It's like a dead octopus inside. 3 wires, one torn, one connector broken, one connect to wrong pin. 3 soldering points all die-sect from the circuit board :( - my beloved AFM completely dead :( Using mandarin scolding these crooks "Mo Leong Sum" people. No good heart people.
Anyway, the criminal unscrew the socket and forcefully pull it out and tore 3 soldering points (pins 3,4,5 from left to right) 1 connector (pin 2), another connector head damage. The criminal later try his/her best to connect whatever he/she can and simply push the whole thing back. Pin 2 & 5 was connected to the wrong place.
We didn't check the screw so we didn't know the criminal used that method. Until we use CSI method to trace back.
The wires inside twist and turn, make the flap jam, fuel pump spring jam, wah such a mess.
So, morale of the story, If a AFM looks perfect outside does not mean good condition inside.
After we repair the AFM using Mr. Wong Yee Yong @ Levin818 teaching method. We use the digital multi-meter to check and confirm all working.
Start the car
Failed.......... idling problem, rev problem, engine warning light comes out, no error code response, no warning light at when check error code.
Change ECU, worst, engine warning light does not come out at all. Idling problem. Rev problem.
So, open ECU 1, found capacitor dead, leaking juice yellow color :(
open ECU 2, found capacitor dead, leaking juice black color :(
Ah Wong ah wong, Levin818 sifu master tai kor, you free or not this week end, I come your house change capacitor ar. Can or not??? pls pls pls :) - last time you said you bought enough to change 50 sets right? these are special military type right?
To whoever have Silvertop / AFM problem (Kuala Lumpur, Malaysia), can go to
LOO YOKE LEONG (Ah Leong) 012-6516869
DU CAR SERVICES SDN BHD (568089-W)
122, Jalan SS21/35, Damansara Utama
47400 Petaling Jaya, Sel
Tel : +60(3)7725-0107
Fax : +60(3)7727-5791
I've pass on my learning from Mr. Wong Yee Yong @ Levin818 to him, Ah Leong can repair AFM no matter how dead.
The basics will not be discussed. Please read from http://www.autoshop101.com/forms/h34.pdf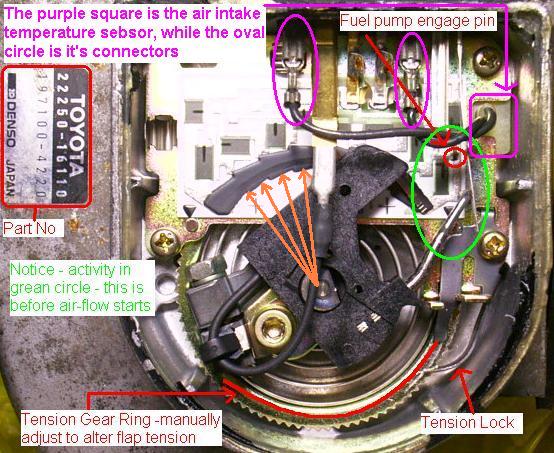 ACOUSTICS SECTION AUDIO SECTION CAR SECTION
HOME - Technical Website for Acoustics, Audio and Car