Rear Brakes Efficiency
27th September 2003
This may work or may not work for you. Please take note.
My car has been using the famous AE86's rear axle with factory default LSD and disc brakes (axle model T-293 that has a final differential ratio of 4.1).
However after 9 months of use with over 20,000 km travel on it. The rear discs still looks dull and old, unlike the fronts shining like a mirror. This simply suggests that the rear brakes are not functioning properly. This can also be felt during braking.
After much nagging from me to my mechanic. He finally adjusted the rear brakes' pot to increase efficiency. All he did was twist??? or turn the piston pot higher. At first he over did it and caliper cannot fit into the disc anymore. So some retardation is required. A caliper opener was also used to help force it open back.
After the adjustment, there is significant braking improvement. The car simply felt safer at all times.

Thanks to Ah Leong my mechanic.
After 2 weeks however the rear brake performance reduced. This is noted by the hand brakes lever not as tight as before.
Before the adjustment, pulling the hand brakes and hearing 6 clicks will not stop the car from sliding at a slope.
After the adjustment, only 3 clicks required and the car stops sliding immediately.
After 2 weeks, back to square one.
I voice my concern to my mechanic but he is not going to fix it for me again :(
Recently a procedure was discovered and improved the rear brakes performance to the day my mechanic improve it. Try this: -
Pump the brakes by the foot pedal many times and hold it down firmly
Pull the hand brakes lever as high as you can
Release the foot brakes pedal
Release the hand brakes lever
Done
Try the brakes performance. If it doesn't work, try again. If it still doesn't work, meaning have little to no improvement then it doesn't work for you. Perhaps the rear brakes need to be adjusted more firmly first???
Another way to improve rear brakes is: - (This only applies to cars that has a rear brakes PROPORTIONING valve to limit brake pressure to the rear OLD drums)
Since drum brakes are much more efficient than discs therefore drum brakes generally have a PROPORTIONING valve.
Bill Sherwood advices to remove the spring within the rear bias proportioning valve to improve rear disc brakes performance by freeing it from the pressure limit.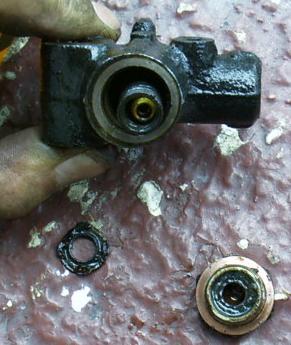 Simply remove everything inside: -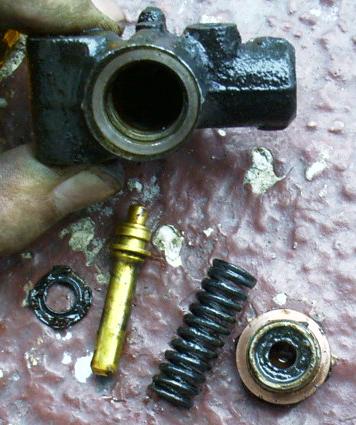 The proportioning valve is situated under the brake cylinder valve???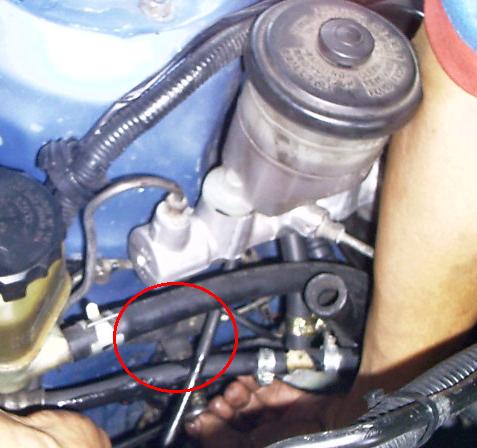 and it looks like: -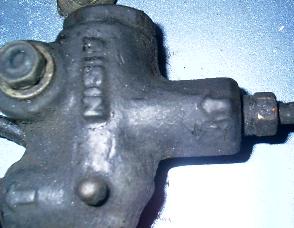 Well, after removing the proportioning valve, I still do not feel significant improvement. A week has passed and over 1000 km travel on it and the rear discs still doesn't look like shiny :(
Perhaps it needs to travel further, also there seems to be some trapped air inside the brake hoses, so I'll have to wait longer to find out the ultimate effectiveness.
I think better simply install the RX7 FC front disc rotors to my rear axle and couple with the AE101 front brakes' calipers

It's going to be one hell of a mod.......................
New update Hand Brake Lever
During some free time, I went to the hardware shop to buy some form of grinding bits / heads and start to smoothen my intake plenum. Pictures to come later.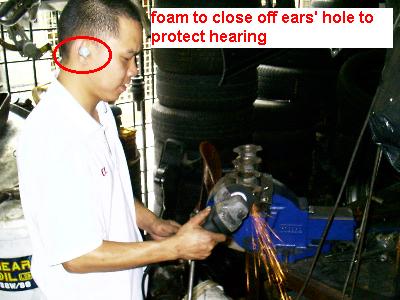 ACOUSTICS SECTION AUDIO SECTION CAR SECTION
HOME - Technical Website for Acoustics, Audio and Car