Hand Brake Lever
18th February 2005
Surprise surprise. The hand brake lever from Toyota Corolla Levin AE101 can be easily installed onto the existing KE70 chassis.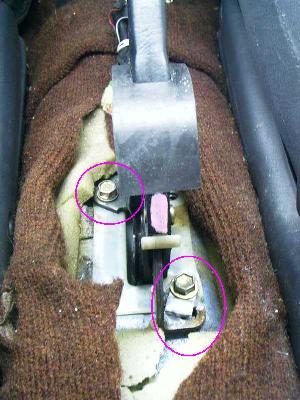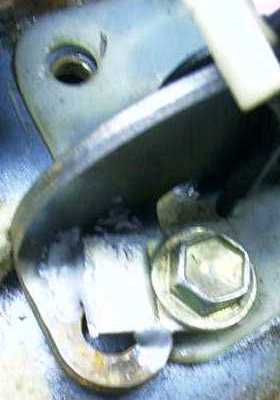 The top bolt goes in nicely while the bottom bolt just missed the original hole by a little. A small piece of bracket was used to allow the bolt to screw into the original position while clamping the lever down. After tightening, epoxy glue is applied to the little clamping bracket for further assurance. Dam easy.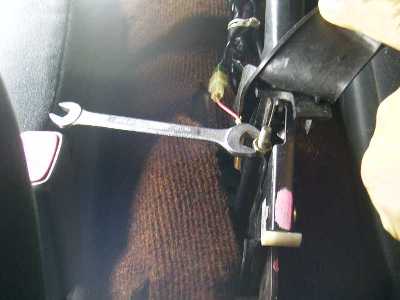 After installing the lever remember to tighten the cable properly. Take this opportunity to make it tight. Use trial and error to find out how tight you should do it.
The Levin hand brake lever is such a nice .............. construction. Pulling it the last few days had been pleasurable. I suppose because it is quiet, firm and tight without the old loosy sound and feel :)
And that as it reaches the limit there is a cushion feel to it. Really really nice.
After tightening the brake lever, the overall brake of the car improved. Looking at the rear disc rotor several days later confirmed that the rear braking % increased according to the tightness of the hand brake cable preset.
Good !!!!!!!!!!!!!!!!!!!!!!!!!!!!!!!
Update 26th May 2005
After several weeks the hand brake lever loosen and the rear brake is not tight anymore. This is extremely dissapointing and thought as a natural wear and tear and was not investigated until just now.
The reason the rear brakes performance lost is because the SINGLE nut used to set the degree of tighted, shown by the last picture above with a small wrench has moved / shifted upwards and lost some of it's hold.
The difference was around one inch. Currently a second nut is put in to stop it from further moving / shifting. More report to come later to confirm the effectiveness of the twin nut usage.
ACOUSTICS SECTION AUDIO SECTION CAR SECTION
HOME - Technical Website for Acoustics, Audio and Car