My Mechanic's Car Audio
1st January 2004 - report written and upload
True event circle around middle 2002
Mr. LOO Yoke Leong (generally called Ah Leong). He is my mechanic who help convert my car's engine. He also make whatever necessary to make the thing run as properly as possible. Thanks to his assistance, I've got an enjoyable ride now. Please see CAR SECTION.
So, it is only natural that I help him fix his car audio systems. Please note that it was him who requested my help and not myself volunteering.
Again with luck he gave me the permission to do whatever necessary as I see fit. Good! no limitations here.
The 1st thing to do is to perform an investigation on his existing system. Then go through the entire process as described in Jwo Shong's Car Audio.
My method / style is to keep as many existing products as possible to save cost. Not keep it down but actually not increasing at all if possible.
Ah Leong already have a brilliant foundation setup for sound quality thank goodness. It's a basic 3 way system emplying tweeters' on dash, mids' on door panel and a single woofer at the trunk. He is using 4 channel amplifier for the mids and highs and bridging a two channel amplifier for the woofer. Mixing active with passive, which are the only thing not good. He also have a Audio Control EQL, which is a 15 band stereo equalizer. Pretty useless if not used correctly.
As usual, the loudspeakers are the most important factor in audio reproduction, therefore they will be investigated / studied 1st.
All the speakers were removed from the car and measured using LMS.
Unbelievable lucky for Ah Leong. Why? because: -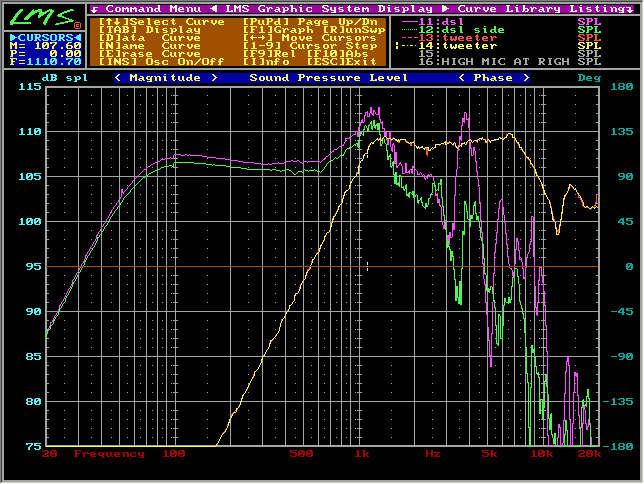 The purple color curve is measuring the mid near-field within 5mm to the dust cap on-axis. The green color curve is measuring the cone at it's edge next to the surround. This is only a study. Notice the cone breakup after the 1st breakup frequency have completely random response and behaviour. This is one of the reasons why frequencies above cone breakup should not be used. Not only are they harsh and unfriendly, but they are also un-predictable as to how strong or loud the sound projected outwards and unknown of which direction. Unless a true 3D measurement is made, which no one does. Too resource hungry.
Regarding the two tweeters that he have. My god, both of them literally cover each other. They are exactly the same. Diamond found in desert :).
Just think of this tweeter is a Semi F1 class racing cars, while many others are unfortunately not even Sedans :(
This is going to be really good !!!!!!
The results looks extremely promising and they are immediately exported out of LMS and imported in LEAP for optimisation simulation.
ACOUSTICS SECTION AUDIO SECTION CAR SECTION
HOME - Technical Website for Acoustics, Audio and Car