Upgrading Power Steering
9th January 2003
A KE70 power steering rack and pinion was bought from the wreckers but further inspection by the mech. reveal that the original KE70 cross_member is unable to mount and lock the power steering rack and pinion, cause it is thicker. Unless one wish to modify the bracket ...... such delicate operations ..... are too sensitive........
Another cross_member which originally house power steering rack has to be obtained. The 1st choice would be the AE70 cross_member with attached power steering rack. 2nd alternative would be AE86 cross member with attached power steering rack and pinion. Come to think of it, this MAY be the 1st choice. To be explained later. Finally the last obvious choice would be to get a KE70 cross_member with attached power steering rack and pinion.
11th January 2003
The wreckers were re-approach and thank goodness they have, what they call a AE70 cross_member with attached power steering rack and pinion. However upon receiving the goods, it's written, as you can see below, a KE70 cross_member with attached power steering rack and pinion. Well, doesn't matter, I'm desperate.
Everything was bought from: -
LL Worldwide Auto (KL) Sdn Bhd
97A&B, Jalan Lapangan Terbang Lama
50460 Kuala Lumpur, Malaysia
Tel : + 60(3) 9221 1520
Fax : + 60(3) 9221 8900
For Ringgit Malaysia (RM) 450.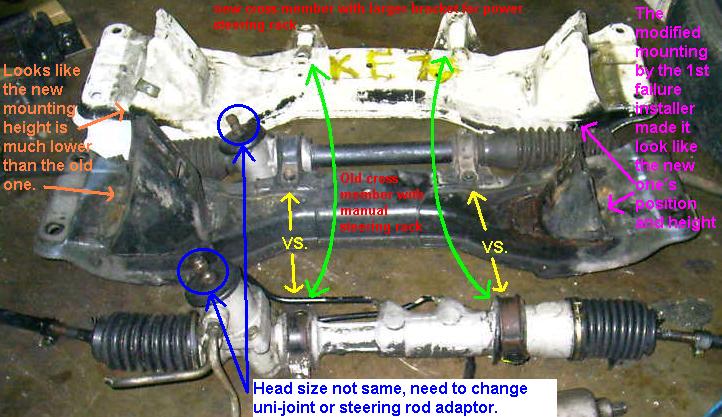 The power steering upgrade could not be carried out immediately because the Chinese New Year Celebration Season is coming, starting on 1st February 2003. This is all due to ALL mech.s business being extremely good because everyone service their cars before going back to home town, which can be as much as 500km away. Anyway lots of normal people only service their cars once a year and this is the time :( So, imagine around 6 million cars servicing at the same time......night mare.......
12th February 2003
Finally, nearly 2 weeks have passed, everyone is back from home town, all major traffic jams cleared, accidents cleared, huge amount of breakdowns on the journey cleared. Mostly get towed back to their favorite mechanic, some are called to the scene, etc etc. In short all good busy business comes to a halt and back to normal.
So in my car to the workshop. What a long wait :(. Upon installation some things had to be reworked cause: -
1) The custom made engine mountings do not fit anymore, 2 new custom made engine mountings had to be fabricated.
2) The old power steering pump, power steering bracket and all the hoses from the AE101 half-cut is reused.
3) During this time the water radiator was changed to the MIVEC ones cause their water inlet and outward positions suite this conversion better.
5) The steering rod / uni joint had to be modified, now the column under the dashboard is AE101, coming out it joints with the old rod from KE70, but using the middle type thicker uni-joint of the KE70, not the last part and finally connect to the power steering rack and pinion. Long story.........
4) forgot..... some other things had to be re-located or re-worked.....
Anyway....... the conversion was completed around 7th March 2003. The mech. was busy........ so he says :( Another longer wait, can't believe this :(
There was a major concern, but came through, which is the gearbox's clutch lever too close to the power steering rack and pinion connection to the steering column entry. Some items were cut and re-welded for extension to avoid collision.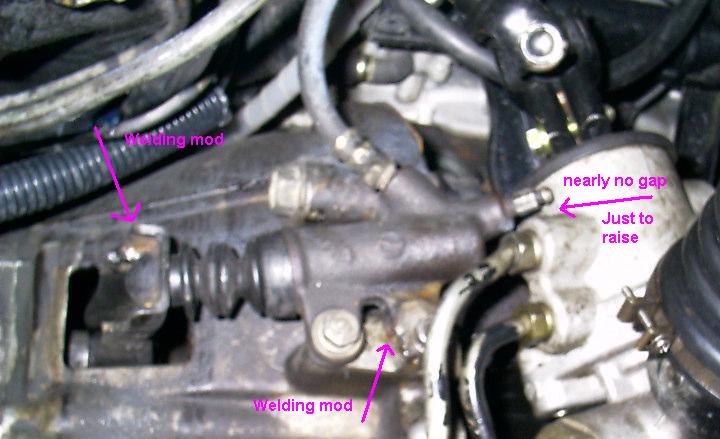 Aftermath
Come to think of it, whenever the engine is revved. It will tilt to the intake side, which is this side. Therefore whenever the engine is revved, the two items will collide. No wonder the car does not feel very secure......
Perhaps the AE86 cross_member should have been obtained, cause one was seen and both left and right mounting is higher than KE70's.
Not only that, perhaps if the AE86 actual engine mounting bracket (metal pieces) coupled with the AE86 cross member, it would once and for all avoid: -
1) gearbox clutch level colliding with power steering
2) tilt the engine to the right side
3) tilting the engine may improve torque delivery ??? so they say, which I believe, seen from Japanese VCD and personal experience when upgrading rear coils. See Upgrade Rear Coil Again in the Aftermath section.
4) direct easy installation......
Looks like other re-work is necessary......... :(