Sudden Death
But don't give up 7th December 2003 (Sunday)
11am drive to workshop to fix gearbox oil leak. Drive 100 meters tada da. Ooopppsss??? what happen??? car dies.
Re-start a few times, unsuccessful :( then noticed engine warning light symbol not on. Hear the sound as if no power to EFI system. Take out the Digital Multi Meter to check fuses. Open fuse box and notice EFI fuse 15A burnt.
Oh no, wonder why? take the 15A from a head light as temporary.
Key-On, engine warning light symbol glows :). Start car dies....... engine warning light no more.........
Check fuse, blown again. Take another head light fuse as temporary. Re to start, but fuse blown again.
This is bad.....what to do, in the middle of the road, under the hot sun......aiyah....why it has to be me??????
After 30 mins or so, can't take it, roll the car to a near by shade. Ah relief......
Take the ECU (EFI Computer Box) and open to check for burnt or short. Smell the circuit and no evidence of burnt mark.
Since it is open, then try to trace the +12V power supply. Lucky there are only 3 and all on one socket. When inspecting the socket, found that +12V was torn.
It is torn because, the previous Japanese Owner added some electronic clips onto the original wiring loom for other accessories, ancillaries etc.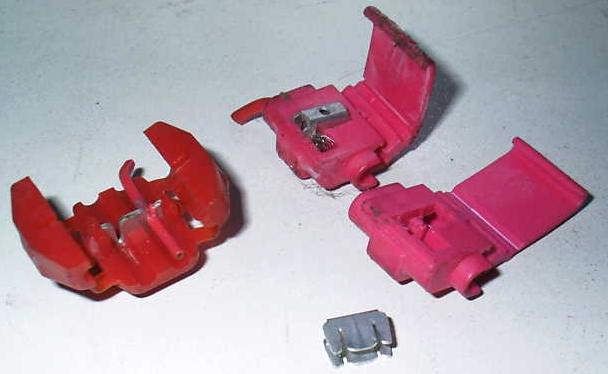 So, after time, vibrations, it is torn.
The clips are removed, wires re-connected and black tape for temporary use. Soldering and heat shrink wrap will be applied for permanent and neat reconnection.
After that the fuse is wrap with 4 strands of wires as temporary fuse. However they still blow during start-up.
This is very strange.......... and not fair............ :(
The ECU has 3 sockets, one is 26 pins, the 2nd is 16 pins and finally 12 pins with power supply. Therefore the 26 pins socket is removed and key turned to ON, but not start.
Noticed engine warning light still ON, use the DMM to measure short circuit between fuse terminal is normal.
Remove the 16 pins and notice the engine warning light symbol DIM. Perhaps lack of grounding. This is highly possible because the ECU mounting to the chassis has been removed and not put back.
A wire was quickly obtained and ground the ECU. The engine warning light symbol now glows to maximum.
OK, plug back all sockets and start the car........... :) hehehehehe
Alamak ------ tak boleh........ no go............ Why??????????????????
This is bullshxt man.......................... not fair...........what the fvck is wrong now?????????????????
With more confident after more inspection for shorting, the car is started again and notice no fuse blow. However the fuel pressure gauge indicates no fuel pressure. This means no fuel delivery.......
Now what? shorted the fuel pump fuse? where is the fuel pump fuse????? don't know. hahahahah
At no choice, open the trunk to inspect....... and found one wire exposed and shorting to the chasis. It is removed and start the car.
Vrrrrrooommmmmm vrroommmmmm vrrrrrooommmmmmm!!!!!!!!!!
My god. Finally.
Two straight problems at the same time. What a coincidence...................... I've got to go buy lottery today :) which I forgot.
Anyway, to all those who modify their cars. Don't give up.
ACOUSTICS SECTION AUDIO SECTION CAR SECTION
HOME - Technical Website for Acoustics, Audio and Car