20v Silvertop vs. MIVEC Blacktop
1st January 2004
A comparison of the two will be made. However I am not an automotive engineer, nor do I know much about them, therefore nothing much will be said about them. This excersice serves more as a viewing pleasure than technical assistance.
20v Silvertop is the engine head (top part) from Toyota Corolla Levin E-AE101-ACMZF 4A-GE using 4 throttles and semi intelligent VVT.
MIVEC Blacktop is the engine head from Mitsubishi ........... heheheh don't know the details, sorry.
20v Silvertop's head weight 12 kg, while MIVEC Blacktop's head only weight around 7 kg. Why is Toyota's head so much heavier? Nearly double? Also nearly double in size?
The comparison of the head's underside. Notice the 4 valves per cylinder versus the 5 valves per cylinder.
On the top side, things looks much more complicated on the 20v. Must be due to the extra valves, causing further hectic valve angles etc.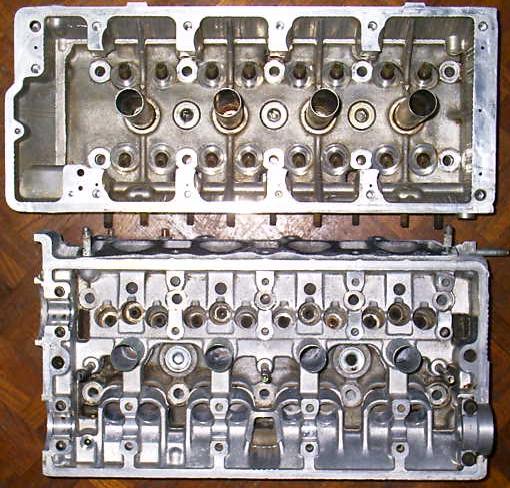 Comparison of the air intake side. Looks like a boat aren't they? 4 huge stim exhaust tower like in the 50s or earlier :)
Comparison of the combusted exhaust side. Looks like the MIVEC head (left) has more aerodynamics as a boat/ship than the 20v :) hahahah.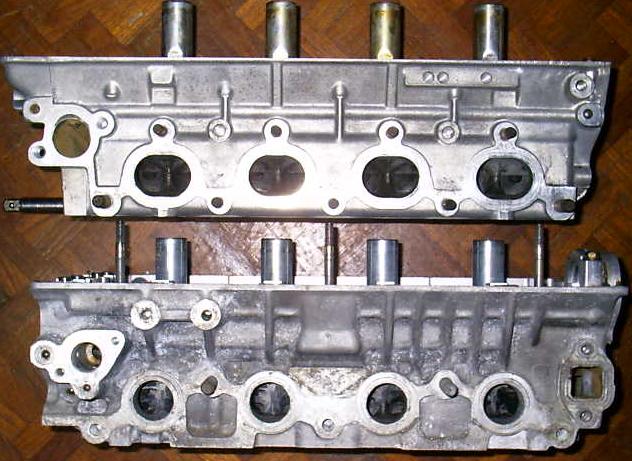 ACOUSTICS SECTION AUDIO SECTION CAR SECTION
HOME - Technical Website for Acoustics, Audio and Car