4A-G 20v AFM "silvertop" ECU year 91 vs. 93
This page compares ECUs between year 91 and 93 of the Toyota engine from the car model Corolla (regular, Levin or Trueno) AE101 which is a 4 cylinders 1.6 liters Twin Cam 20 Valves 4 throttles with VVT running on Vane's Air Flow Meter (AFM L-Jetronic) aka "Silvertop".
91

93

91.7.8
93.6.10
91 _ _ - _ _ 4 _
93 _ _ - _ _ 4 _
yellow sticker on case
red sticker on case
89661-12770
89661-1A190
175000-462

2

on sticker
175000-

576

1

on sticker
175031-462

1

on circuit
175031-

576

1

on circuit
2F
4A
462

576

1
2
The date is taken from the case with 4621 or 5761 respectively, while inside the circuit board it prints: -
So, what does the 4 mean? And what are the empty boxes after 91 or 93 and before and after 4???
4th quarter of the year? This cannot be as the year 91 unit also have 4, while 91.7.8 (7 or 8) hardly fits into last quarter of the year.
93.6.10 does not really tell if it is June or October??? :( better find out from a Japanese friend what Japanese prefer to use, year month day or year day month

hahahahahha
Another ECU was found and the date system that Japanese manufacturers are using is year month day. So 93.6.10 is 93 June 10th

What's the difference between 12770 vs. 1A190 or 2F vs, 4A or 576 vs. 462??? Hhhhmmmm too many questions.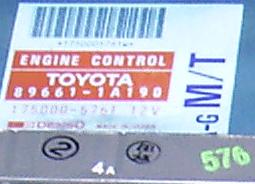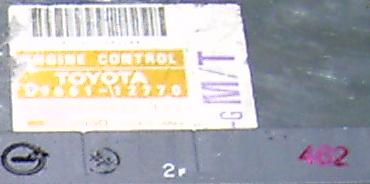 Anyway this information is somewhat important because on the 20vAFM official circuit chart it says there are a total of 11 revisions of ECU. All just for what is known as "one" engine.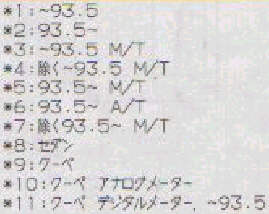 electrical circuit applicable for ECU / wiring looms production before ~ 93.5
electrical circuit applicable for ECU / wiring looms after 93.5 ~
specific to manual transmission before 93.5
EXCEPT before 93.5 manual transmission
specific to after 93.5 M/T
specific to after 93.5 A/T
EXCEPT after 93.5 M/T
Sedan
Coupe
Coupe, Analog Meter
Coupe, Digital Meter
Items 8, 9, 10, 11 is translated by nickname you know who you are a forum member in you know where
Many thanks to him and credits goes to him :)
He warns that his Japanese is around 50%, hence those translation should not be taken as 100%.
This is used when reading the universal circuit with 11 different variant overlapping each other. Please note.
Perhaps now it explains why some people replaces the ECU several times but still screw up :(. Some pin outs have been shifted to other locations and causes some form of error of worst short circuit.
Now, this is the crucial bit to the long winded story above. Pendekar a fellow enthusiast found out that the VVT on his 20vAFM does not engage at 4,400 rpm. Instead it engages "WHENEVER" the throttle is radically depressed. i.e. when the power is required, estimated by the user's throttle position.
Come to think of this, this is great. This is like 1/2 VVT-i

Anyone who wishes to find out if his / her 20vAFM can do so simply by sticking a 12v+ DC light bulb onto the VVT solenoid wires and watch if the light comes on / off at what rpm point / at what throttle.
Please note that sticking the light bulb to the ECU output will make the light bulb turn on immediately after starting the car. It appears that 20vAFM may be using a reverse signal method to engage the VVT or it may be using a trigger relay.
I didn't find out mine, cause of worries that the indication of 93.5 above means something like: -
before 93.5 VVT engage at 4,400 rpm (not according to throttle versus rpm)
after 93.5 VVT engage according to throttle vs. rpm) like: -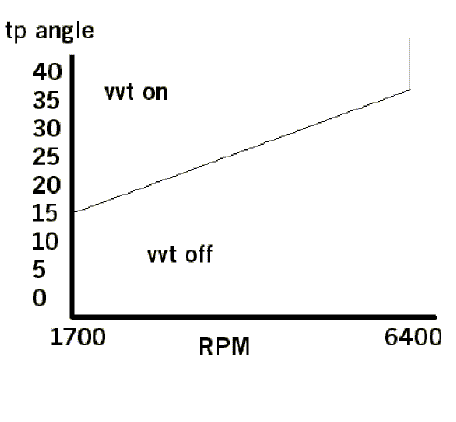 picture taken from www.club4ag.com - credits goes to them

Although 93.6.10 is June 93 which is after the word "93.5~" but I'm still chicken, so I'll face the truth later

Still, as of / during writing. I finally took up my DMM and measured it stationary. ZERO volt. No signal to the VVT solenoid. This is bad news :( All I can hope for is that it needs to sense some speed. God bless for next measurement

Perhaps everyone has been wrong all this while thinking early VVT engages around 4,400 rpm. Perhaps it has always been TPS vs. RPM???
Still, more to find out.
Below is a pin outs comparison
| | | | | | | | | | | | | | |
| --- | --- | --- | --- | --- | --- | --- | --- | --- | --- | --- | --- | --- | --- |
| | 91 | 93 | Phil | | | 91 | 93 | Phil | | | 91 | 93 | Phil |
| 1 | +B1 | +B1 | +B1 | | 1 | THE | nil | THE | | 1 | ELS2 | CF | ELS2 |
| 2 | BATT | BATT | BATT | | 2 | VS | VS | VS | | 2 | STA | STA | STA |
| 3 | CCO | CCO | CCO | | 3 | THA | THA | THA | | 3 | IGF | IGF | IGF |
| 4 | ECO | FC | nil | | 4 | THW | THW | THW | | 4 | NE | NE | NE |
| 5 | AC2 | AC2 | AC2 | | 5 | nil | nil | | | 5 | G1 | G1 | G2 |
| 6 | ACT | ACT | A/C | | 6 | OX | OX | OX | | 6 | nil | ECO | |
| 7 | B+ | +B | +B | | 7 | TE2 | TE2 | TE2 | | 7 | VVT | VVT | VVT |
| 8 | W | W | W | | 8 | VF | VF | VF | | 8 | ISC | ISC | ISC |
| 9 | EGW | EGW | EGW | | 9 | E2 | E2 | E2 | | 9 | RSC | RSC | |
| 10 | AC1 | AC1 | AC1 | | 10 | VTA | VTA | VTA | | 10 | RSO | RSO | |
| 11 | SP1 | SP1 | SPD | | 11 | VC | VCC | VC | | 11 | #3 | #3 | #3 |
| 12 | ELS1 | ELS | ELS1 | | 12 | IDL | IDL | IDL | | 12 | #1 | #1 | #1 |
| | | | | | 13 | OX+ | OX+ | OXL1 | | 13 | E01 | E01 | E01 |
| | | | | | 14 | KNK | KNK | KNK | | 14 | HT | HT | HTR |
| | | | | | 15 | TE1 | TE1 | TE1 | | 15 | nil | nil | |
| | | | | | 16 | nil | EAF | | | 16 | EVP | EVP | IPV |
| | | | | | | | | | | 17 | G- | G- | G- |
| | | | | | | | | | | 18 | G2 | G2 | G1 |
| | | | | | | | | | | 19 | L3 | nil | L3 |
| | | | | | | | | | | 20 | L2 | nil | L2 |
| | | | | | | | | | | 21 | L1 | nil | L1 |
| | | | | | | | | | | 22 | IGT | IGT | IGT |
| | | | | | | | | | | 23 | #4 | #4 | #4 |
| | | | | | | | | | | 24 | E1 | E1 | E1 |
| | | | | | | | | | | 25 | #2 | #2 | #2 |
| | | | | | | | | | | 26 | E02 | E02 | E02 |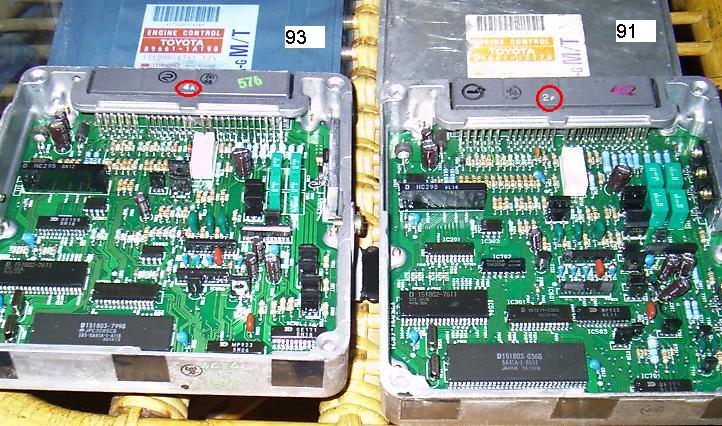 next to 20v AFM AUTO ECU 2 big board
ACOUSTICS SECTION AUDIO SECTION CAR SECTION
HOME - Technical Website for Acoustics, Audio and Car